This Side Up Moving Company is a full service moving company that helps families and businesses relocate with ease. We are locally owned and operated from Madison, Alabama, and are also properly licensed, bonded and insured to perform residential and commercial moves within the 48 contiguous states. Condominiums, apartments, offices and homes of all shapes and sizes are commonplace in our world. Our years of experience, quality equipment and expert planning facilitates the preparedness that results in a successful move.
We Take Care of Business
Commercial and corporate moves are mission critical. They require precision, timing, teamwork and effective execution of logistics. We understand that you are in business to make money with minimal interruption and maximum business continuity. We repay your trust in transporting your company's documents, technical equipment and furnishings by providing exemplary corporate relocation services.
Office Moving Tips
Create a plan
Coordinate with IT
Keep critical clients in the loop
Involve your staff
Secure vital information
Organize electronics
Plan a post move party
Let Us Take You Home
We manage residential moves of all kinds, whether it's local, intrastate or long distance. The first step we take in assessing your move is understanding your specific needs. By understanding your requirements, we can adequately prepare you for what to expect and build a personalized moving strategy that secures a positive moving experience.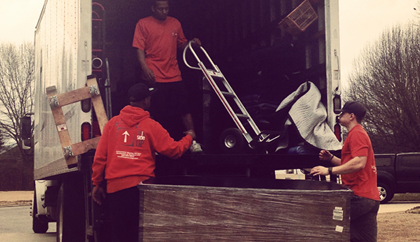 We Handle with Care
There are times when a customer needs to move bulky, heavy or delicate items that require special handling and proper equipment. We have both the experience and equipment necessary to competently handle personal items such as antiques, hot tubs, gun safes, pianos, or other high value items. Each of these moves is subject to the parameters of the move. Please call for more information.
We Deliver the Goods
Need a hassle-free delivery made? We routinely pick up single items and sets of furniture from stores, homes, warehouses or storage units, and then deliver said items in a safe and easy manner.
Get Ahead of the Pack
When it comes to moving, the packing is usually the most time consuming. If you find yourself distressed about your packing project, then let us pack for you. Our full and partial packing services offer you flexibility in how much you would like to handle, and how much you would rather not worry about. We train our employees to be diligent packers so you can trust your belongings are safe in transit and delivery.
After the move, you are left with a legion of boxes that need unpacking. Although the inclination may be to unpack everything as quickly as possible, you will need to take it one room at a time, and one day at a time. However, if the time or patience for this does not exist, then we are happy to assist with the unpacking as well. We can do as much or as little as you wish, whether it is the entire home or certain rooms, such as the kitchen or bedroom. The final result gets you back into a normal routine.
All Cleaned Up
Post move cleanup is one of the final steps in transitioning between addresses. However, with substantial attention needed at your current residence, it is understandable how this task is usually perceived as a chore. If that's the case, then know you still have options available to you. In our effort in improving your moving experience, our post move cleanup service is available for your convenience. We can take care of the mess, provide the supplies and remove the hassle.
Store Away
Our storage facility offers short-term and long-terms storage solutions. Safely store your belongings for a night, a few days, or on a month-to-month basis, without any long-term commitments.
Get Organized
Most moves require relocating from one place to another, but sometimes, all the moving happens in one location. We can declutter rooms, rearrange furniture, clear space for a spe